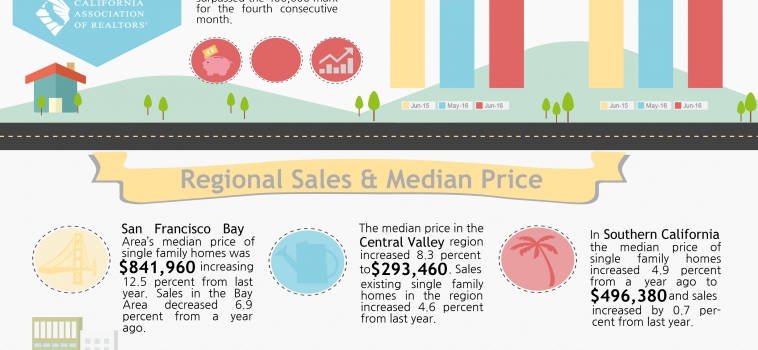 California home sales up double-digits monthly for first time since 2011
After a couple months of lackluster growth in transaction volume, California existing home sales rose to their highest level in nearly four years in June, as sales  surpassed the 400,000 mark for the fourth consecutive month, the CALIFORNIA ASSOCIATION OF REALTORS® (C.A.R.) said today.
Closed escrow sales of existing, single-family detached homes in California totaled a seasonally adjusted annualized rate of 450,960 units in June, according to information collected by C.A.R. from more than 90 local REALTOR® associations and MLSs statewide. The statewide sales figure represents what would be the total number of homes sold during 2016 if sales maintained the June pace throughout the year.  It is adjusted to account for seasonal factors that typically influence home sales.
The June figure was up 10 percent from the revised 409,840 level in May and up 2.2 percent compared with home sales in June 2015 of 441,450 (revised). The month-to-month increase was the first double-digit monthly gain since January 2011 when sales of existing homes rose 11.3 percent from December 2010.
"Market conditions suggest that demand for housing will remain steady through the rest of the summer," said C.A.R. President Pat "Ziggy" Zicarelli. "However, inventory is still tight, especially at the low end of the market, and this keeps competition for those homes at an extremely high level.  The recent march of mortgage rates to ever lower levels will also add to the strong demand for entry-level homes."
Rising demand combined with tight supply kept upward pressure on prices in June. The median price of an existing, single-family detached California home increased 5.5 percent in June to $519,440 from $492,320 in June 2015. June's median price was 0.1 percent lower than the revised $519,750 recorded in May 2016. The median sales price is the point at which half of homes sold for more and half sold for less; it is influenced by the types of homes selling as well as a general change in values.
"The annual gain in the median home price is being driven by more sales at the mid-segment housing market, which comprise at least half of the overall demand," said C.A.R. Vice President and Chief Economist Leslie Appleton-Young. "Price growth appears to be cooling somewhat in San Francisco, where the 3.2 percent increase was less than the statewide gain of 5.5 percent."
Read the complete report at California Association of Realtors